Agricultural & Farm Equipment
Only the top brands.
The Professional Choice for All Your Farm, Hobby Farm and Agricultural Equipment, Parts & service.
You know what your operation is capable of, and you have a plan to get your maximum yield. Like you, the Huber team knows what our equipment is capable of, and we're confident in our expertise and abilities. We've been in operation for almost 50 years and, in that time, we've spent endless hours with our clients, on their properties and farms, talking and listening to them. This experience has given us an excellent sense of your needs, what you are looking for, and how we can help.
Our sales team has in-depth knowledge of all our equipment and will go over the specs of each piece, discuss whether it's suitable for your job and answer any questions you might have. And, if we don't have or carry the piece of equipment you need, our team will find the right piece and bring it in for you on a one-off basis.
And, if you have the right equipment, but it isn't working as it should, we can provide field service, so you have as little downtime as possible. Whether you're planting, feeding, or harvesting, we know you are at the mercy of the weather and need your machinery to work when you need it to work, season after season.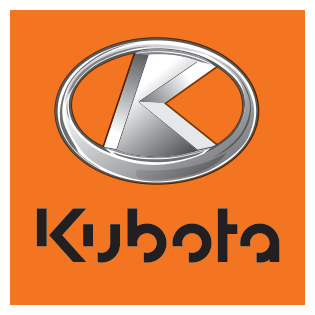 A PROUD KUBOTA DEALER
Kubota is committed to manufacturing well-engineered of the highest quality. If you're looking for a performance machine, look no further than Kubota for tractors, rakes, tedders, and balers.
In addition to carrying the full Kubota line, Huber Equipment also sells a full range of Land Pride products. The Land Pride line of compact drills grooming mowers, rotary cutters and tillers, seeders, dirt working products and snow removal tools is made explicitly for Kubota and is completely compatible.
K-HAUL TRAILERS
Kubota's heavy-duty lineup of trailers serve as excellent transport solutions for a variety of tasks—from commercial to residential and beyond. From 12 foot variants up to 20 foot behemoths, each K-Haul trailer is constructed the right way to work well with others and get the job done payload after payload.
Contact us if you're interested in a utility trailer, float trailer, landscape trailer or a dump trailer.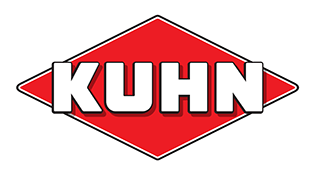 KUHN'S INNOVATIVE, HIGH QUALITY AND HIGH-VALUE AGRICULTURAL EQUIPMENT.
With 190 years of experience in manufacturing agricultural machinery, KUHN is a leading innovator in agricultural and industrial equipment and offers a broad range of hay and forage, livestock, and crop production tools, as well as landscape and road maintenance equipment.
At Huber, we sell and service the full line of KUHN products. We carry their complete range of tillage tools for seedbed preparation: power tillers and harrows, disc harrows, plows, and fertilizer spreaders. We also offer disc mowers, mower conditioners, tedders, rakes, mergers and more. Whatever your need, we have the KUHN that's right for you.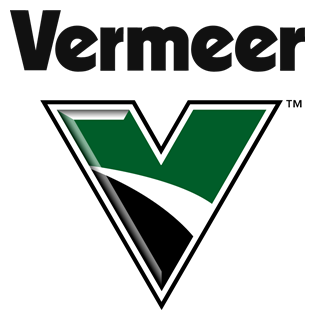 VERMEER IS KNOWN FOR IT'S BRIGHT SUNSHINE YELLOW COLOUR AND EQUIPPED TO DO MORE® REPUTATION.
Vermeer designs and manufactures high-quality equipment designed and manufactured to last. Vermeer products are innovative and industry-leading. The company prides itself on "making an impact on the way work gets done through the design, manufacture and support of high-quality equipment."
At Huber Equipment, we carry Vermeer's complete line of top-quality, industry-leading hay tools. From round balers, mowers, mower conditioners, rakes to tedders, balers and silage wrappers, these machines are known for getting the job done.

TOP-QUALITY FARM KING EQUIPMENT.
Manufactured in Morden, Manitoba, Farm King produces top-of-the-line, high quality and durability agricultural equipment. They pride themselves on creating products for every farm and strive to build top-of-the-line agricultural equipment that best suits farmers' needs. When you purchase a piece of Farm King equipment, you know you're getting a great, Canadian-made farm machine that will work hard for you.
At Huber, we carry the entire Farm King line, including brush cutters, grapples, bale wagons, finishing mowers, post hole drivers, post pounder, grain augers, grain cleaners, swath rollers, hammer mills, box scrapers, drag harrows, landscape rakes, small compact discs, rotary cutters, rotary tillers, snow blowers, sprayers, rear blades, front blades, round bale squeeze, stump grinders and rotary sweepers.

HUBER NOW CARRIES LANE SHARK FRONT-END MOUNTED BRUSH CUTTERS.
These affordable and adaptable rotary mowers are designed for compact to midsize tractors and save you time and labour when clearing land, underbrush, pond edges, etc. With 11 cutting positions, the Lane Shark cut vertically, level with the ground, and at multiple angles from 0 to 90 degrees, and can be used on flat or sloped terrains. Other features include offset cutting positions, two-sided blades, and decks constructed of 1/8″ plate and 1/4″ plate reinforcement for spindle and motor mount.
We currently stock the LS2 and LS3 models at Huber. The LS2 model is four feet wide, available in two motor sizes, and is best for large to midsize tractors, while the LS3 is three feet wide, available with two available motor sizes, and is best for compact to small tractors. Contact us for more information and find out how a Lane Shark can help you tackle any brush clearing job with ease!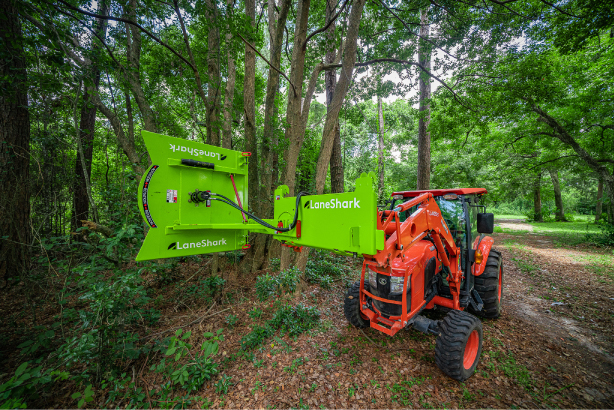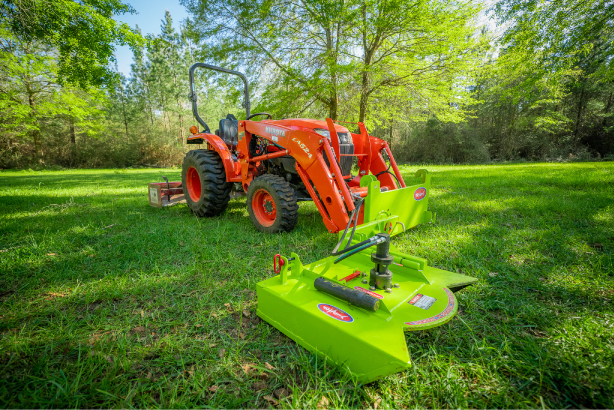 FINANCING
Depending on what you are looking to purchase we have a few different finance options available to best suit your needs. Let's talk and sort out the best option for you.