Product Lines
Kubota. Kuhn. Vermeer. Farm King.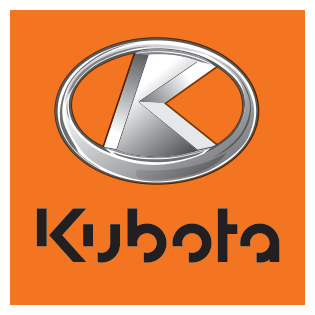 HUBER EQUIPMENT IS PROUD TO BE A LONG-STANDING DEALER FOR KUBOTA PRODUCTS.
At Kubota, excellence is built from the ground up. These top quality machines allow you to get on with the planting, feeding, building and puttering. Huber Equipment offers: Kubota tractors, side-by-sides, farm equipment, utility and all terrain vehicles, turf equipment, lawn and garden equipment, pumps, generators and a variety of implements and performance-matched attachments.
Huber also carries compact construction equipment like Kubota excavators and skid steers, track and wheel loaders, If you don't see it in the yard, please ask, and we'll do our very best to bring it in for you. Huber has an excellent relationship with Kubota and we consider some of their reps as friends.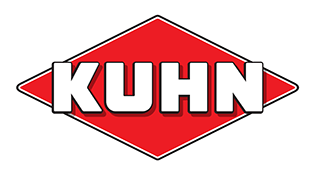 KUHN AGRICULTURAL MACHINERY
At Huber Equipment you will find Kuhn Agricultural Machinery. Kuhn knows agriculture and their development teams are always trying to find solutions that will retain forage quality by using cutting edge technology and engineering. Look to Kuhn for disc mowers, mower conditioners, tedders, rakes, mergers, we deal in the full line of Kuhn equipment. Not seeing what you are looking for? Not to worry, we can get it; please, just ask.
Kuhn also offers a full line of tillage tools including: power tillers, power harrows, disc harrows, plows and fertilizer spreaders. Plus, Kuhn manufactures shredding and landscape maintenance equipment. All of the Kuhn lines live up to the exacting standards of the Kuhn brand.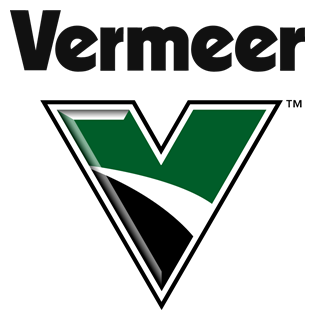 VERMEER HAY TOOLS
Huber Equipment believes in quality and selection and we are pleased to offer the complete line of Vermeer hay tools: round balers, mowers, mower/conditioners, rakes, tedders, bale processors and silage wrappers. Vermeer offers quality machines built to take on tough tasks.

FARM KING AGRICULTURAL EQUIPMENT
Huber Equipment is also a Farm King dealer offering a line of agricultural equipment that suits the needs of farmers around the world. Farm King's commitment to quality and durability is a staple within the company and within Huber, so it's a good fit.

HUBER NOW CARRIES LANE SHARK FRONT-END MOUNTED BRUSH CUTTERS.
These affordable and adaptable rotary mowers are designed for compact to midsize tractors and save you time and labour when clearing land, underbrush, pond edges, etc. With 11 cutting positions, the Lane Shark cut vertically, level with the ground, and at multiple angles from 0 to 90 degrees, and can be used on flat or sloped terrains. Other features include offset cutting positions, two-sided blades, and decks constructed of 1/8″ plate and 1/4″ plate reinforcement for spindle and motor mount.
We currently stock the LS2 and LS3 models at Huber. The LS2 model is four feet wide, available in two motor sizes, and is best for large to midsize tractors, while the LS3 is three feet wide, available with two available motor sizes, and is best for compact to small tractors. Contact us for more information and find out how a Lane Shark can help you tackle any brush clearing job with ease!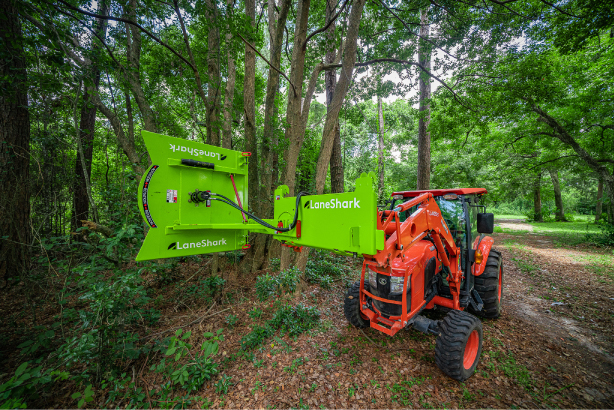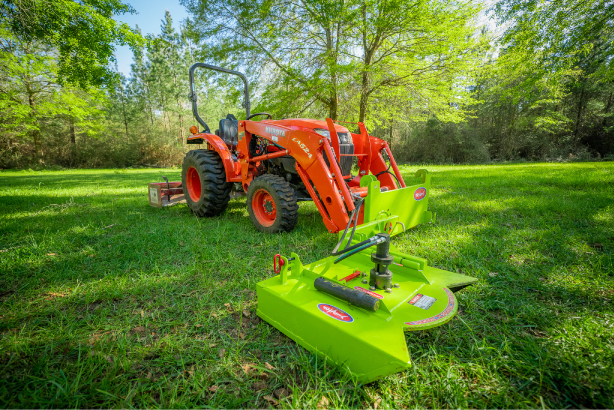 JOIN US IN WECLOMING ARIENS TO THE HUBER EQUIPMENT FAMILY OF QUALITY PRODUCTS!
Founded in 1933, Ariens crafts dependable, durable, and high-performance snowblowers, lawnmowers, log splitters, power brushes, and more. Whether you're up to your eyeballs in snow or looking for that perfect lawn manicure, Ariens is designed for maximum performance and will get the job done!
Snowblowers
Let's face it, winters in Northern BC are beautiful but challenging. We all love the ability to snowshoe, ski and enjoy the beauty of our community. Still, it's a little harder to enjoy when it's -20, or you're trying to get to work the morning after a snowstorm. Ariens understands winter conditions better than most. They design their equipment with multiple solutions to tackle the hardest of winter tasks with ease.
Currently, we have several snowblowers, snowbrushes and sweepers in stock. You can choose the model that best meets your needs and have a clear driveway in record time.
Lawnmowers
Ariens lawnmowers are known for their speed, superior maneuverability, and flexibility. Their ride-on mowers are dependable, easy to use and effective on any type of lawn surface. They also come with attachments that extend the mower's ability, including mulching and trimming attachments.
If a ride-on isn't your style, Ariens also produces a full line of walk-behind mowers and power brushes that are effective, durable and will get the job done. All our Ariens lawn tractor models are equipped with 17 to 25 horsepower, single or two-cylinder Kohler Courage engines, with top forward speeds of 5.5 mph and reverse speeds of 2.5 mph.
Regardless of the model you choose, you're guaranteed to get the high-quality results you expect from an Ariens machine. You can also expect these mowers to last for many years to come.
For more information on our Ariens line of products, contact our sales team today.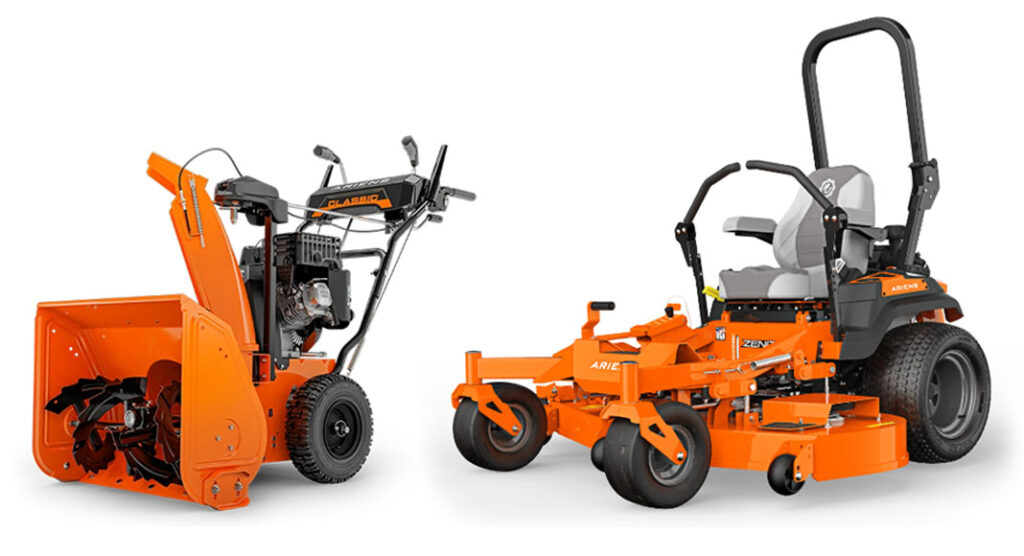 FINANCING
Depending on what you are looking to purchase we have a few different finance options available to best suit your needs. Let's talk and sort out the best option for you.